About us
"We care deeply about how what we do and the way we do it affects our people, their families, our clients, our clients' customers, and the whole of society."
Liam McGee, Founder & Chief Scientist, Kaiasm
Kaiasm is a strategic knowledge creation and technology firm based on the outskirts of Frome in Somerset. We work for various large national retailers and public sector organisations to help them radically realign their offerings to the expressed needs of society. We have created (and continue to enrich and analyse) our vast Kaiasm data set, and we build the sophisticated tools and visualisations our clients use to act on the unique knowledge we provide.
Our work has led to Brian Cox and Strictly Come Dancing, to shifts in healthcare to focus on patient worries not clinical categories, and transformation of businesses in what they buy, what they sell, and how they sell it.
Why we do it
Our ongoing mission is to change how both government and the economy works - to align businesses and public sector organisations more closely to the expressed needs of society, to the benefit of all. We're not being flippant when we talk about both rebooting the economy and playing our part in solving climate change. We have shown how profitable and efficient business and public sector can be if it starts with demand instead of supply.
We think we can see how the world could be and we want to get it there, and we are doing all we can to remove any obstacles on the way. We make the complex visible, knowable and actionable. We create true value for our clients, their customers, our people and our partners through the work we do.
Kai-what?
Kaiasm. Pronounced Kai (as in kayak), -asm (as in enthusi-asm). It stems in part from the Japanese Kaizen (Kai = change, Zen = good. Together meaning the accumulation of small continuous improvements), the Greek Kairos (the perfect moment to act). It is also a convenient misspelling of the classical concept of Chiasm, a reversal of thought pattern to get at a change in paradigm.
'Ask not what your country can do for you, but what you can do for your country' is a chiasm.
Ours is 'Stop making people want things. Start making things people want'. It's a simple idea which turns out to be revolutionary.

We are based in beautiful offices in Whatley, just outside Frome (apparently both the most stylish place in the UK and the best place to live in UK). We are the best in the world at what we do, so could choose to be based anywhere. So we chose here.
We have dogs in the office, stop for coffee at 11 (even when in lockdown!), offer family-friendly, flexible working patterns, walks at lunchtime, thinking breaks (via knitting, board games, collaborative cryptic crosswords), and a near obsessive interest in words and meanings.
The company was founded in 2010 by Steve Johnston and Liam McGee.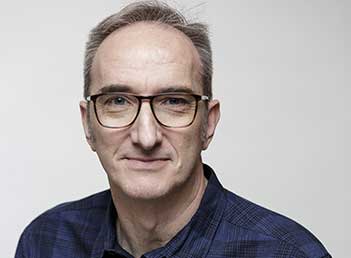 As a bookselling entrepreneur from the analogue past, where he saw first-hand the sudden economic shift represented by Amazon, he's Kaiasm's in-house retail specialist. He saw how Google would change society almost as soon as it started, setting up the world's first Google consultancy. He accelerated Expedia to some of their early search successes, before going on to rewrite Hotels.com's approach to technology and online search. With Taxonomics (Kaiasm's previous trading name), he and the team were behind Screwfix's massive growth and domination of the DIY sector online. Steve is co-author of the top-selling search engine book '50 ways to make Google Love your Website' with Liam McGee, published by Penguin Random House. He has a BSc in Psychology from Manchester Met.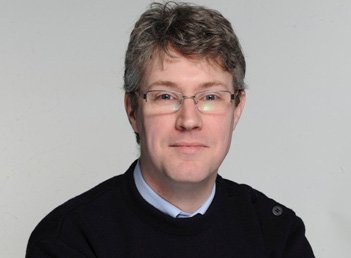 Liam is the inventor of Kaiasm's unique system of weighting complex categorisations with big-data in order to produce optimal taxonomies for large-scale information architectures (phew). His expertise covers data visualisation, cartography and GIS, cognitive science, econometrics, knowledge management and web performance. His work has informed public services digital offerings, from the NHS website's information architecture, to the BBC's demand intelligence. His expertise in product and category taxonomy has also been exploited across retail environments, with dramatically positive results: household names such as Screwfix and Homebase have been clients. In his early career he designed and built websites for a number of national charities, designed massive multiplayer share trading games, worked on web standards development (an invited Expert to the W3C in accessibility). He has an MA and MSci in Natural Sciences from Cambridge, an MSc in Science Communication from Imperial College London, and is a Fellow of the Linnean Society.
Rosemary Mackenzie, Head of Taxonomy
Rosemary joined the team in July 2011. Before this she has been an International Venturer Liaison at Raleigh International, a Science Night and Exhibition Developer at the Science Museum, and Pharmaceutical Meeting Coordinator at CVL.
Rosemary has a BSc in Environmental Science from the University of Plymouth.
Will joined Taxonomics, the early manifestation of Kaiasm, in November 2015. Before this he was at Accenture for six years.
Will has a BSc in Maths from the University of Manchester.
James Harvey, Head of Development
James and Liam met on the Computer Science course at Caius College in Cambridge in 1995. He started working with Steve and Liam in 2012 and officially joined the team in 2014. Before this he was lead engineer at nCipher and then Principal Architect at Thales e-security.
James has an MA in Computer Science from the University of Cambridge.
Partners
We can't change the world alone. If you are working towards transforming the economy and government to meet the needs of society, get in touch. We would love to hear from you!


We're always happy to meet people who think they might be a good fit! And we're recruiting for a few particular roles right now, too. Find out a bit more about Working at Kaiasm.