OntoKai solves many previously intractable problems in data integration for commercial and public sector organisations. It was born out of a need to make data understanding more accessible to all stakeholders, and to make data integration more effective and efficient.
The UK Government's Innovation Agency agrees. In 2022, it awarded us a £350,000 Innovate UK Smart Grant to support a £500,000 investment in developing the OntoKai technology.
What is OntoKai?
OntoKai is a new kind of software tool for envisioning, managing, translating and merging detailed knowledge representations such as ontologies and data models. It lets you identify data gaps and overlaps both within and between organisations.
OntoKai reduces the time and cost of modelling data. It increases data quality in system integrations. It reduces data rework. Outputs include open, standards-compliant data structures that can be used in a variety of governance, storage and data management systems.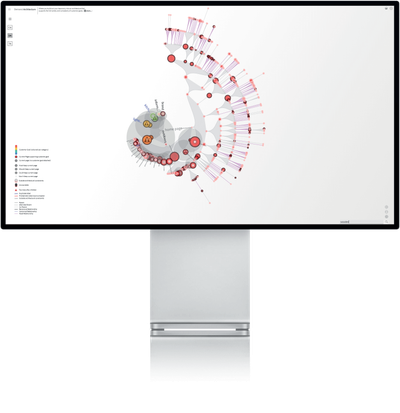 Partners and end-clients use OntoKai as part of a three-stage process that we offer.
We deploy the OntoKai SaaS toolset on public cloud infrastructure or within your own secure environment
We provide you with the methodological skillset you need to get the best use of it
We collaborate on mentoring and common understandings needed to help change your organisation's mindset to a human-centric data approach.
Why do our clients and partners need OntoKai?
Organisations have an ever-increasing amount of data, which is often of poor quality. This data is often held in different systems and is accessible to different groups of people. Those people will have varying levels of expertise and comfort in handling and manipulating data - which is one of the factors determining the extent to which the data is useful, usable and used. Often, there is confusion about what data exists, where it is, what is missing and who has control and responsibility for changing it. To cap it all, much of this data is of questionable quality.
To help improve the outcomes of data projects that suffer in these ways, OntoKai gives you:
New ways of seeing

At-a-glance denotation of trustworthiness, completeness and conformance, or the combination that is most important to you. Automated rearrangement of complex networks of interrelated entities (entities which are represented in multiple systems) into memorable, navigable, human-friendly maps.

New ways of valuing

Visual weighting by data asset value, information need, carbon-embodiment, whole-life cost, social value, or any other value metric you can provide.

New ways of transforming

Move horizontally between systems (e.g. highways-to-rail; appointing party to supplier). Move vertically from top-level ontology, to domain-ontology, to data-model or reference schema. Transform forwards and back in time between data classified with an old version of a schema.
Summary benefits
OntoKai brings several key benefits to large commercial and public sector organisations:
It avoids information rework both inside and between organisations
Data and resource supply chains become visible and comprehensive
Project data versions are made compatible
All assets are connected in one 'system of systems'
Enables technical and non-technical people alike to discuss how data is stored, managed and used
Supports any business case required for data adaption, extension and data governance quality assurance and quality controls
Helps improve the underlying infrastructure of data to support the application of machine learning techniques including AI
OntoKai services support
The consultancy services* we provide alongside the OntoKai software help answer the following questions:
Phase
Key questions we can answer
Mapping the knowledge space

What data does our organisation hold? Where is it? What's missing?
Where is it mastered, governed, duplicated? How is it organised?
What do people say they are looking for and then end up using?

Mapping the information-demand space

What data do people use?
What do they (repeatedly) search for but can't find?
Are we talking about the same asset or activity when we use different words?
How does it flow between systems?
How do I reduce conflicts?
What is the quality of the data?

Conceptual data model (or ontology), a description of the data that makes sense to (different) people

I want to see the shape of our data, the relationships between it and interpret what that reveals.
I want to be involved in the way we hold data, and what we hold without needing to have a tech background.

A plan to migrate from the jumble to a common model based on demand

There's lots to do, what is the most valuable and important improvement we could make to our data?
What should I do next?
How far have I come?
What impact do the changes we have recently made have on our plan?

Data which is useful, usable and used

How am I doing against stakeholder objectives?
What has been done?
*Consultancy services incur additional fees
Licence
OntoKai is licensed as a per-user SaaS tool on a minimum 12-month contract and a minimum five users. Terms and conditions apply.
By arrangement, we can install OntoKai on a client's own cloud infrastructure.
Innovate UK
OntoKai enjoys the support of Innovate UK, and has been partly developed with grant funding.