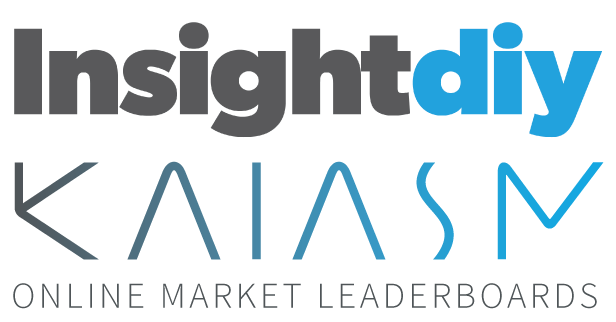 See the Current Month.
Each month, Insight DIY uses Kaiasm to track 1,058 things people ask for in the UK Flooring, Tiling & Doors sector (excluding Carpets), expressed in 9,148 different ways, and how well this demand is met by 2,366 market competitors. How well is your business doing this month?
Commentary from Steve Collinge:
This month we've focused our attention on the Flooring, Tiling and Door categories. The leaderboard matches what we know consumers have been searching for online for these product groups during in the 13 week period to the end of September 2020 to how well this demand has been met by the leading UK retailers. The full retailer list is much longer than this (it actually runs to over 2,000 companies).
Anything highlighted in blue is what we class as a riser and anything yellow is a faller. Click on replay to re-run the 13 week animation again.
It's fascinating to see the top three Wickes, B&Q and Topps Tiles unchanged for the whole period, with Topps doing particularly well as they only offer indoor and outdoor tiles and no other type of flooring or doors. Although improving, Homebase is again in a rather disappointing 11th position behind a number of pure-play retailers. I'm sure the impact of the HUT group will accelerate Homebase up the leaderboard in 2021.
Flooring Superstore, which first began trading online in 2012 and prior to 2017, had no physical stores, is doing particularly well in 5th spot.
Other notable mentions: the rapid growth of Tapi (from nowhere to 14th), Amazon, not traditionally known for these categories in 15th and no sign of ManoMano, which is odd, bearing in mind their 150+ data scientists!
Click on any of the dates to see the position at that time and click on any of the company names to see just their performance over the 13 weeks.
Market Leaderboard
Top 30
Published 23rd October 2020

Data range: 13 weeks to 3rd October 2020

These are the websites who won the greatest share of the demand tracked in this subsector.
We particularly like this chart, which simply shows the change in demand for customer needs/searches over the last 13 weeks. There's been a significant (10%) decline in overall searches for flooring and tiles since July, which we think is probably due to the high demand during the post lockdown June/July period, with so many people not taking holidays and investing the money in their homes.
Don't forget to click on the other pages (1 of 4) where you can isolate performance across each of the three product groups – just Flooring, just Tiling and then just Doors.
Demand Trend
Published 23rd October 2020

Data range: 13 weeks to 3rd October 2020

This chart shows the change in demand for the customer needs tracked in this subsector.
Demand Focus: September 2020
Here we show the product groups that have shown the greatest shift in consumer search demand, either positive or negative during just the last 4 weeks. Here, skirting boards seem to be very popular during this period, particularly plastic and MDF, whereas different types of internal doors have dropped significantly over the last four weeks.
Again, click on the other page options to reveal company specific results for Tapi and then Homebase.
Get the latest reports every month from Kaiasm.
Rises & Falls
The top 10 movers, both positive and negative, in the last four weeks.
Get Notified about monthly updates
Dig deeper
Get market insight customised to your particular market and product range, every week. Look at change of different time periods, identify unseasonal increases and decreases, develop a calendar of demand, and much more. Contact us about our Market Insight products.