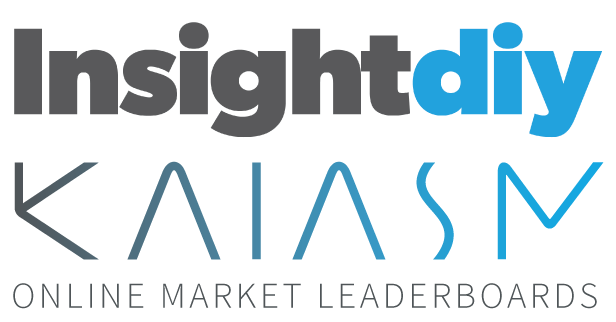 See the Current Month.
Each month, Insight DIY uses Kaiasm to track 1,182 things people ask for in the UK Heating, Plumbing and Ventilation sector, expressed in 9,931 different ways, and how well this demand is met by 3,147 market competitors. How well is your business doing this month?
As winter closes in, heating hots up. Kingfisher dominate the top of the table with steady positions for Screwfix and diy.com. Further down the table, Toolstation have made a significant improvement to their market share moving from 11th to 6th position, challenging Dimplex's not-quite-direct-to-consumer site and plucky pure-play specialist BestHeating, while Toolstation's ex-Travis Perkins stablemate City Plumbing also make a good showing with an 11-place move upwards since the end of August, something we dig into a little deeper in the rises and falls chart later. The Range For horizon-gazers the emergence of the Nest-supplying Google Store in this sector is something to keep an eye on in the coming months. Those seeing a loss in market share include both platform play Wayfair and Victorian Plumbing. We look at Victorian Plumbing in the Rises and Falls chart later on, too.
Market Leaderboard
Top 30
Published 17th December 2020

Data range: 13 weeks to 28th November 2020

These are the websites who won the greatest share of the demand tracked in this subsector.
Demand Trend
Published 17th December 2020

Data range: 13 weeks to 28th November 2020

This chart shows the change in demand for the customer needs tracked in this subsector.
Focus on November 2020
In the general rises and falls we can see new demand coming in such as bio-ethanol fireplaces (we didn't know they were a thing) and smart home heating control devices Nest, Hive and Tado (we are seeing a similar rise in other sectors - ring.com are on the rise in security, for example). Month on month rises in heating product demand in November aren't surprising, but falls are worth a bit of thought... it's hard to spot a definitive pattern but there does seem to be a drop in lower end or traditional heating solutions in favour of more modern ones. We'd want to look at whole-year data before being too definite on this, but seems like a theme worth some more investigation. If we look in particular at the second rises and falls chart - those which most affected City Plumbing - we can see an interesting shift. 'Plumbers merchants near me' saw a significant absolute fall in demand from previous month, yet 'plumbers merchants' saw a significant *increase* in demand. This may point to difficulty in obtaining products from your nearest trade supplier, with people therefore looking for supplies, any supplies, and not just for those nearby... beggars cannot be choosers. Right now, if it's all down to supply chain, then this is a good time to introduce people to brands they have not tried recently.
Get the latest reports every month from Kaiasm.
Rises & Falls
The top 20 movers, both positive and negative, in the last four weeks.
Get Notified about monthly updates
Dig deeper
Get market insight customised to your particular market and product range, every week. Look at change of different time periods, identify unseasonal increases and decreases, develop a calendar of demand, and much more. Contact us about our Market Insight products.