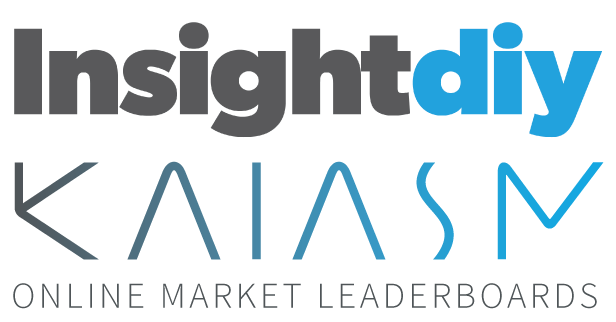 See the Current Month.
Each month, Insight DIY uses Kaiasm to track 1,204 things people ask for in the UK Ironmongery & Fixings sector, expressed in 8,235 different ways, and how well this demand is met by 4,110 market competitors. How well is your business doing this month?
Market Leaderboard
Top 30
Published 17th February 2021

Data range: 13 weeks to 30th January 2021

These are the websites who won the greatest share of the demand tracked in this subsector.

Key rises and falls over the last four weeks are highlighted in blue and yellow respectively.
Steve Collinge: "This month we're focusing our attention on the oldest of all Home Improvement Categories – Ironmongery & Fixings. Before they became known as DIY retailers in the 1970's, stores in our sector were originally referred to as Ironmongers and they first appeared during the Industrial Revolution. The Ironmongery and Fixings category includes everything from nails and screws to shelf brackets, gate hinges, letterboxes and more recent sub-categories including smoke alarm, security cameras and the latest Smart Home products.
The Leaderboard matches what we know consumers have been searching for online for these product groups during the 13 week period to 30th January 2021, to how well this demand has been met by this specific list of leading UK retailers. The full retailer list is much longer than just this top 30 and runs to almost 4,110 companies!
Anything highlighted in blue has climbed 5 or more places in the last 4 weeks and anything yellow has dropped 5 or more places during the same period. Click on replay to re-run the 13 week animation again, it's quite addictive!
With Screwfix, Amazon and Ring almost untouchable at the top of this month's leaderboard, there's a real scrap developing for the next four places between the big boys B&Q, Toolstation, eBay and Argos. By the end of the January, it looked like B&Q and eBay were beginning to gain ground. You can tell by the name, that this category is bread and butter for Ironmongery Direct, who continue to punch well above their weight against much larger competitors with more significant budgets.
It's also worth taking a look at the significant gains made during the period by market specialists DHC (Doorhandlecompany.co.uk) and Simplydoorhandles.co.uk, two businesses who are proving that you don't need to have scale to win in this sector.
Click on any of the dates to see the position at that time and click on any of the company names to see just their performance over the 13 weeks."
Demand Trend
Published 17th February 2021

Data range: 13 weeks to 30th January 2021

This chart shows the change in demand for the customer needs tracked in this subsector.
Focus on January 2021
Steve Collinge: "We particularly like this chart, which simply shows the change in overall demand for customer needs/searches during the last 13 weeks to 30th January. Although not historically a particularly seasonally affected category, the Smart Home products do appeal as gifts and as a result, we see a significant decline in searches and demand post Christmas."
Get the latest reports every month from Kaiasm.
Risers & Fallers
The top 20 movers, both positive and negative, in the last four weeks.
Steve Collinge: "In this chart we show the product groups that have shown the greatest shift in consumer search demand, either positively or negatively during the last 4 weeks. Why there should be such an increase in demand for letterboxes is a good question, as is the concerning growth in searches for home safes, CCTV cameras and safe boxes – maybe it's to protect all the cash that consumers haven't been spending on travel and eating out in the last 11 months! Click on the other page options to reveal fascinating company specific results for Argos and Doorhandlecompany.co.uk – it's really worth looking at. Don't forget to sign up for our monthly updates here"
Get Notified about monthly updates
Dig deeper
Get market insight customised to your particular market and product range, every week. Look at change of different time periods, identify unseasonal increases and decreases, develop a calendar of demand, and much more. Contact us about our Market Insight products.