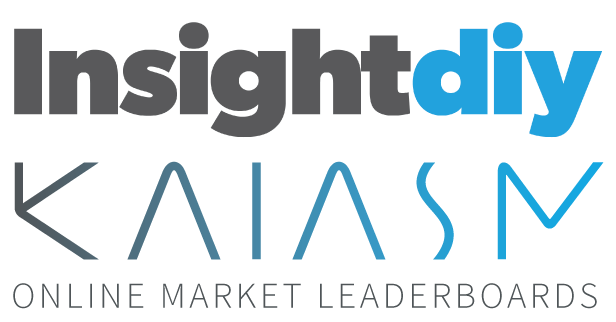 See the Current Month.
Each month, Insight DIY uses Kaiasm to track 844 things people ask for in the UK Lighting sector, expressed in 7,525 different ways, and how well this demand is met by 1,966 market competitors. How well is your business doing this month?
Steve Collinge: "This month we've focused our attention on the Lighting category. The Leaderboard matches what we know consumers have been searching for online for these product groups during in the 13 week period to the end of October 2020, to how well this demand has been met by the leading UK retailers. The full retailer list is much longer than just this top 30 and runs to almost 2,000 companies.
Anything highlighted in blue is what we class as a riser and anything yellow is a faller. Click on replay to re-run the 13 week animation again.
This is obviously the peak period for lighting in the whole year, triggered by the clock-changes at the end of August. Whichever retailers have the top spots during the October and November period can genuinely claim to be market leaders in this category.
The top five have remained virtually unchanged since we first launched the Leaderboards in August 2020 with Wayfair consistently leading the way. However, it's fascinating to see Amazon now take the top spot in a category that I would say they're never been particularly well known for. Is it just a fact that due to COVID, consumers are now buying products online like lighting and light bulbs they would never have purchased online previously, preferring to make the journey to a physical store?
Take a look at the significant gains being made by both John Lewis and Toolstation as the period passes, with strong gains also being achieved by Made.com and CoxandCox.co.uk.
Online Lighting Specialists also figure strongly in this category with names like TheLightingSuperstore.co.uk, Lighting-Direct.co.uk, Lights.co.uk and Ledbulbs.co.uk all punching well above their weight and delivering through successful digital strategies.
Click on any of the dates to see the position at that time and click on any of the company names to see just their performance over the 13 weeks."
Market Leaderboard
Top 30
Published 4th December 2020

Data range: 13 weeks to 31st October 2020

These are the websites who won the greatest share of the demand tracked in this subsector.
"We particularly like this next chart, which simply shows the change in demand for customer needs/searches over the last 13 weeks. Here we can clearly see the seasonal impact with demand for lighting growing significantly as the days get shorter and we once again become reliant on lighting in our homes. By the end of October demand for lighting is 32% higher than it was at the beginning of October."
Demand Trend
Published 26th November 2020

Data range: 13 weeks to 31st October 2020

This chart shows the change in demand for the customer needs tracked in this subsector.
Demand Focus: October 2020
"In this chart we show the product groups that have shown the greatest shift in consumer search demand, either positively or negatively during just the last 4 weeks. Here, floor lamps, table lamps, the increasingly popular LED strip lights, Christmas and outside lights have all seen impressive increases in searches. Again, these trends are indicative of the 'nesting' instinct that we've all been feeling, wanting to improve our homes and brighten-up our gardens in contrast to the outside world and the on-going challenges we've all faced in 2020. Note the appearance of 'Sad Lamps' showing an increase in demand! At the other end of the chart lamp-shades appear to be declining in popularity.
Use the arrows to reveal some specific detail on Toolstation as they power up the board."
Get the latest reports every month from Kaiasm.
Rises & Falls
The top 20 movers, both positive and negative, in the last four weeks.
Get Notified about monthly updates
Dig deeper
Get market insight customised to your particular market and product range, every week. Look at change of different time periods, identify unseasonal increases and decreases, develop a calendar of demand, and much more. Contact us about our Market Insight products.