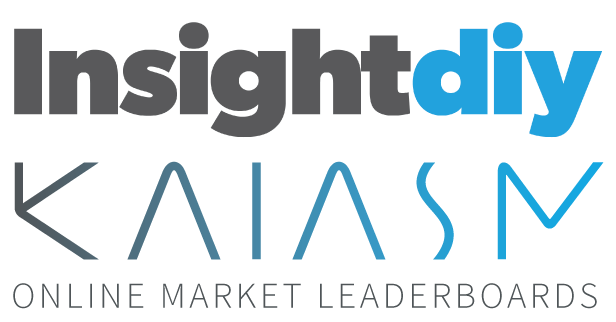 See the Current Month.
Each month, Insight DIY uses Kaiasm to track 1,423 things people ask for in the UK Paint & Decorating sector, expressed in 7,752 different ways, and how well this demand is met by 3,490 market competitors. How well is your business doing this month?
Steve Collinge says: "This month we've focused our attention on the single biggest sales and profit category for the leading big box Home Improvement retailers – Paint and Decorating. The Leaderboard matches what we know consumers have been searching for online for these product groups during in the 13 week period to 2nd January 2021, to how well this demand has been met by the leading UK retailers. The full retailer list is much longer than just this top 30 and runs to almost 3,490 companies.
Anything highlighted in blue is what we class as a riser and anything yellow is a faller. Click on replay to re-run the 13 week animation again.
Although October half-term normally shows a significant peak, November and December are not historically key months for this category. However, with lockdown #2 in November and with the majority of consumers still working from home, it appears that Painting & Decorating is becoming an almost a year-round pastime for UK homeowners.
The top five have remained virtually unchanged since we first launched the Leaderboards in August 2020 and it's fascinating to see the No.1 big-box retailer B&Q, the No.1 Trade Outlet Screwfix, the No.1 online market place Amazon and the No.1 paint brand Dulux, all fighting for the top spot in this category. With a far less comprehensive offer, it is surprising to see Screwfix in the top spot, but it just shows how hard they are working to meet customers requirements when searching online.
Take a look at the significant gains made by Hobbycraft, Farrow & Ball and Ronseal as the period passes, with notable improvement also being achieved by eBay, who continue to focus on the development and expansion of their Home Improvement offer.
The resurgence of the wallpaper sector appears to show no end, with a number of online specialists punching well above their weight including WorldofWallpaper.com and WallpaperDirect.com. See the product group focus further down for more positive wallpaper trends.
Click on any of the dates to see the position at that time and click on any of the company names to see just their performance over the 13 weeks."
Market Leaderboard
Top 30
Published 27th January 2021

Data range: 13 weeks to 2nd January 2021

These are the websites who won the greatest share of the demand tracked in this subsector.

Key rises and falls over the last four weeks are highlighted in blue and yellow respectively.
"We particularly like this chart, which simply shows the change in demand for customer needs/searches over the last 13 weeks to 2nd January. Here we can see the seasonal impact with demand for decorating peaking in October, not declining anywhere near as much as we would have expected in November and then falling off as Christmas approaches "
Demand Trend
Published 27th January 2021

Data range: 13 weeks to 2nd January 2021

This chart shows the change in demand for the customer needs tracked in this subsector.
Demand Focus: December 2020
Get the latest reports every month from Kaiasm.
Rises & Falls
The top 20 movers, both positive and negative, in the last four weeks.

"In this chart we show the product groups that have shown the greatest shift in consumer search demand, either positively or negatively during just the last 4 weeks. If you ever needed evidence that consumer interest in wallpaper is growing (even over the Christmas period), take a look at three of the top five results - all wallpaper related and in total 14 of the 20 fastest growing movers are all wallpaper. Click on the other page options to reveal fascinating company specific results for Hobbycraft and Ronseal. Don't forget to sign up for our monthly updates here.
Get Notified about monthly updates
Dig deeper
Get market insight customised to your particular market and product range, every week. Look at change of different time periods, identify unseasonal increases and decreases, develop a calendar of demand, and much more. Contact us about our Market Insight products.