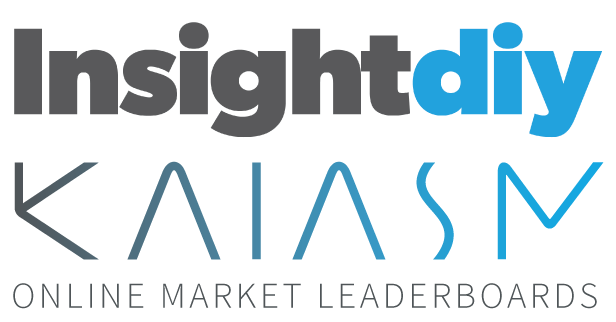 See the Current Month.
Each month, Insight DIY uses Kaiasm to track 1,884 things people ask for in the UK Power Tools, Hand Tools, Garden Tools and Access sector, expressed in 13,210 different ways, and how well this demand is met by 4,171 market competitors. How well is your business doing this month?
This month we've focused special attention on the Power, Hand & Garden Tool and Access categories. The leaderboard matches what we know consumers have been searching for online during in the 13 week period to the end of August, to how well this demand has been met by the leading companies in the UK. The full retailer list is much longer than this (it actually runs to over 4,000 companies).
Anything highlighted in blue is what we class as a riser and anything yellow is a faller. Click on 'replay' to re-run the 13 week animation again.
It's fascinating to see Screwfix giving Amazon a hiding week in, week out, but take a look at the battle for the next four places between Toolstation, eBay, B&Q and Argos. For core home improvement categories, it's disappointing to see Homebase and Wickes in 8th and 9th position. Below the leading retailers, it's a scrap between more pure play retailers Powertoolworld.co.uk lawnmowersdirect.co.uk and the leading manufacturer brands with Stihl, Makita and Dewalt battling it out.
Click on any of the dates to see the position at that time and click on any of the company names to see just their performance over the 13 weeks.
Market Leaderboard
Top 30
Published 18th September 2020

Data range: 13 weeks to 29th August 2020

These are the websites who won the greatest share of the demand tracked in this subsector.
We particularly like this next chart, which simply shows the change in demand for customer needs/searches over the last 13 weeks. No surprise about the decline when you consider the share that gardening takes of this category during the peak season. August this year was also impacted by the number of people who chose to take holidays as we saw a general fall-off in the demand and sales of home improvement and garden products during August across multiple sources.
Don't forget to click through to the other charts (via the large black and white arrow) where you can isolate performance across each of the three key segments – Power and Hand Tools, just Garden Tools and Access including ladders.
Demand Trend
Published 18th September 2020

Data range: 13 weeks to 29th August 2020

This chart shows the change in demand for the customer needs tracked in this subsector.
Demand Focus: August 2020
Here we show the product groups that have shown the greatest shift in consumer search demand, either positive or negative during just the last 4 weeks. Again, click on the other page options to reveal company specific results for Homebase, for the affiliate information website DIYGarden.co.uk and for the manufacturer Milwaukee.
Get the latest reports every month from Kaiasm.
Rises & Falls
The top 20 movers, positive and negative, in the last four weeks.
If you have found this all as fascinating as we do, please sign up using the link below to be notified when we update the charts each month, and share freely using the sharing links to the right.
Get Notified about monthly updates
Dig deeper
Get market insight customised to your particular market and product range, every week. Look at change of different time periods, identify unseasonal increases and decreases, develop a calendar of demand, and much more. Contact us about our Market Insight products.